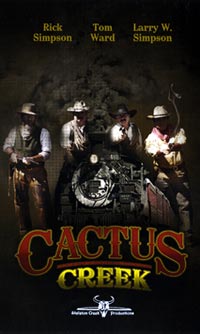 Get ready for some wild horse backin', wild gun fightin', and old West adventure and fun!
Cactus Creek is the worst outlaw town in the Colorado territory. Into this haven for outlaws ride Stormy, Texas, Cimarron and Logan (R.W. Hampton). Will U.S. Marshal Trevor Cooper (Buck Taylor) arrive in time?
Filmed in beautiful high definition in the wilds of Colorado, Kansas and Oklahoma this exciting, fun-filled tale of the old West is a must see for the entire family!
STARRING:
Rick Simpson
Larry W. Simpson
Tom Ward
With:
Buck Taylor, R.W. Hampton, Bryanna Holt, Maryann Miller, Bobbie Persall
DVD ~ $20.00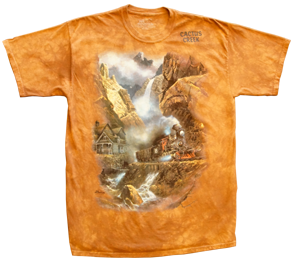 T-Shirt ~ $26.00
Now $21.00
Fantastic marbled brown, luxurious, high quality, 100% cotton Tee with a beautiful waterfall and the 1880's steam engine train from Cactus Creek on the front.
Sizes S-XL