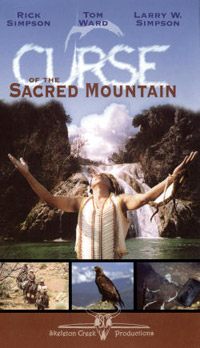 Stormy, Texas and Cimarron ride to Denver to save two falsely accused women from hanging. While in the mountains they discover a lost Spanish treasure however it is protected by a mysterious Indian curse. Stormy and Texas are thrown in jail in an outlaw town run by an "old Friend". Can Cimarron, with the help of an Indian spirit, rescue his two saddle pals and survive the Curse of the Sacred Mountain?
Told against the sweeping panoramas of New Mexico and Oklahoma, this action packed tale of lost gold and gunfights, courage and sacrifice, is a must see for the entire family!
STARRING:
Rick Simpson
Larry W. Simpson
Tom Ward
With:
Charlie Ward, Kirsten Hurley, Penny Hart, Karen Simpson, Christina Whinery
Special Appearance: Mr. Peter Brown as "Kelly"

DVD
$20.00