Stormy Lane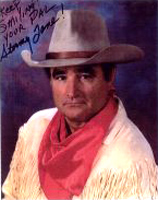 Writer and Director, Rick Simpson was born in Enid, Oklahoma and was raised on a ranch east of Enid. His love for the "Cowboy" life started when he was a young boy with riding horses and working cattle. A love which continues today.
Simpson has written five feature films for Skeleton Creek Productions. His credits include, "The Trail to Abilene", "Guns Along the Bravo", "Showdown at Devil's Butte", "Curse of the Sacred Mountain" and "Cactus Creek." In each of these films, he plays one of the lead characters, Stormy Lane.
Simpson also penned a television pilot which featured the late Academy Award Winning actor, Ben Johnson, entitled "Legend of the Lost Dutchman Mine". This was to be part of a series called "Lost Mines and Buried Treasures". He also was involved in "period" pieces for the television show, "Unsolved Mysteries".
Rick, along with his brother Larry, owns Skeleton Creek Productions and an old west museum/movie studio in Enid, Oklahoma.
Stormy Lane -
Texas Clapsaddle - Cimarron Simmons